Interactive Projections Touch Multi-Touch systems

Create large size multi-touch experiences coupled with awesome content!
Multi-touch Interactive Projections Kiosk
The Interactive Projections Kiosk can be adjusted easily into four form factors.
Table, tilted kiosk/workstation, High Bar Table, or as a standing flat display
Super slim and robust design
32″ HD high brightness LED display loaded with built-in Mac Mini
Option of 6 and 40 simultaneous touch point detection
Preloaded ready to use applications which you can easily customize
Can be used across numerous industry verticals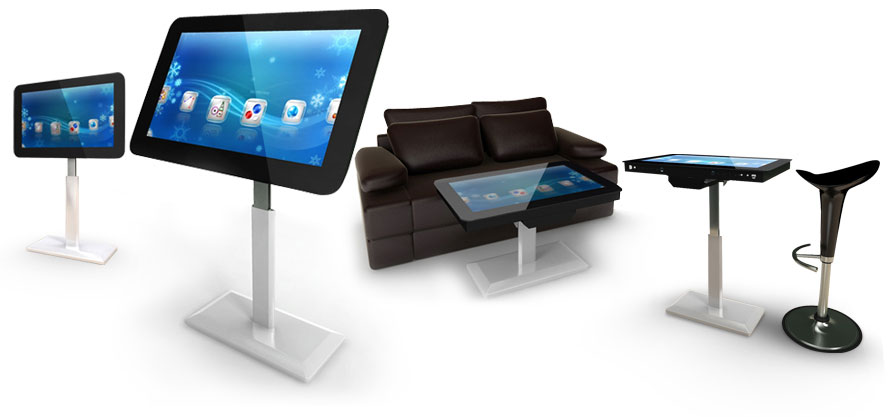 Interactive Projections Multi-Touch Neo Kiosk

The Kiosk For Every Location
Neo Kiosk
Wall Mounted or in Adjustable Kiosk Form Factor
HD LED Display with Multi-Touch
Bundled with Customized Multi-Touch Software
Cloud Based Content Management System
Specifications
32" 720p HD LED Display with Multi-Touch (2 Touch)
Pre-fitted with Interactive Projections MT-Series IR touch technology
Bundled wall Mount. Optional add-on Kiosk floor mount is available
Internal amplified 16W stereo speakers
Windows 8.1, 32-bit
Pre-installed Interactive Projections SuiteTM software platform
Max power consumption: 80W
Integrated bluetooth 4.0, WiFi 802.11n, LAN
Power Supply 100-230V AC, 50/60 Hz
Intel Z3735F CPU 1.33Ghz upto 1.83 Ghz(Quad core), 2 GB RAM, 32 GB SSD
Operating temperature: 0°C to 50°C (32°F to 122°F)
Adjustable height: Min: 900mm Max: 12000mm
Weight: 18 KG
1 year warranty
Where to use?
Retail outlets for product display
Lobbies and waiting rooms
Corporate presentations
Events and exhibitions
Hospitality information displays
High-tech museums & experience centers
Interactive Projections Multi-Touch Overlays

Interactive Projections MT Series
Interactive Projections Multi-Touch Overlays
High speed multi-touch overlays from 32" to 500"
Upto 40 touch points supported
Pre fitted with toughened glass, no assembly required
Plug n Play installation, no driver required
USB Powered
Specifications
Technology: High-Speed infrared
Multi-touch Points: 2 Touch/ 6 Touch/ 40 Touch
Glass Type: Toughened 4mm Glass(up to 65")
Frame Material: Ruggedized aluminium alloy
Max Scan Rate: 200 hz
Power Adapter: No adapter required. USB powered for up to 65"
Interface: USB
Response time: 5-12 ms
Touch Method: Finger, gloved hand or any other pointer
Touch Durability: Unlimited
Redundancy: Fault tolerant, works for up to 10% damaged tubes
Touch Activation Force: No pressure required
Programming Interface: Windows 7, Windows 8 Native Touch, Linux, Mac OSX, Android,    TUIO Support with driver on windows
Supported OS: Windows 8/7/Vista/XP, Mac OS X, Ubuntu/ Fedora, Android(HID)
Operating Temperature: 10°C to 60°C
Operating Humidity: 10% to 90% RH, non-condensing
Multi-Touch Thru-glass Film
Thru-Glass film sticks on any glass or acrylic surfaces
Keep your shop windows or glass facades live even after closing hours
Robust through glass multi-touch detection
Compatible with all LCD displays and with Projectors using rear projection film
Select from sizes between 42 to 165 diagonal. Custom sizes on request
Preloaded ready to use applications which you can easily customize